Antnotes app is a handy replacement of standard stickies application with more features and customization options.
We did our best to retain the simplicity and ease of use but add more complicated features like notes archive, import and export, ability to attach note to specific application or numerous customization options.
You can enjoy Antnotes for free with most of it's basic features you will ever need, however you can also buy the full-featured version. Buying it will also encourage us for future development and improvement of Antnotes.
Customizable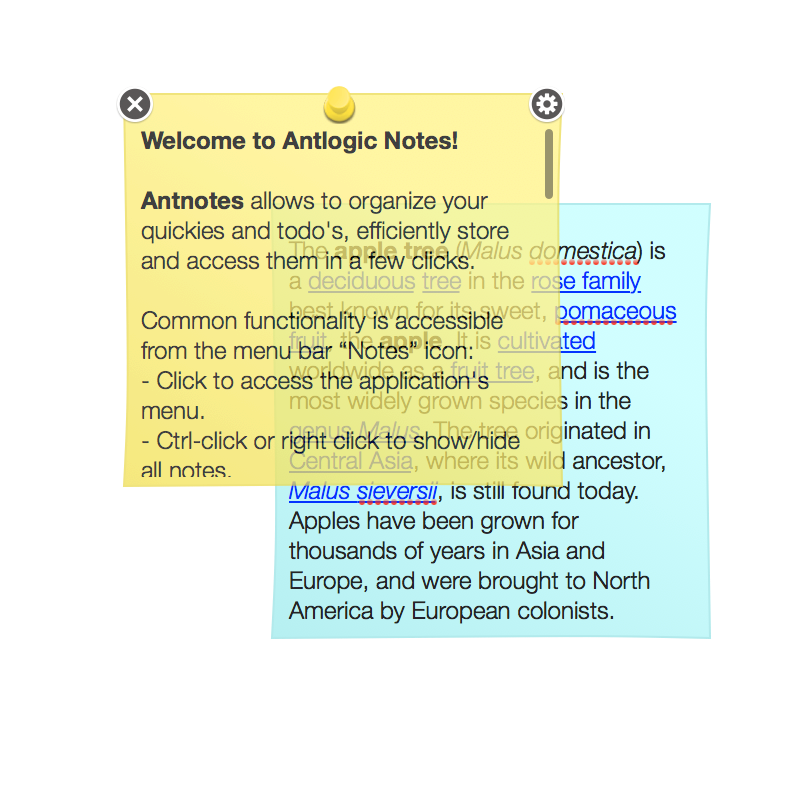 For each note you can change size, placement on screen, background color, text font and color, make it translucent (transparent) or pinned (so it floats atop of all other windows). Note can be rolled-up to the thin stripe so you can see the title which doesn't take much space on your screen. All standard rich text editing features apply: you can make text bold, italic and underline, insert images and links, drag text and files to the note.
New notes can be configured to have random background color or predefined one. If you want to have specific font, color or even make every new note translucent - just pick the options for the existing note and choose 'Make style default'.
Search & archive
Use the note search feature to quickly find out note with information you need. You can do it on the main screen or from the notes archive - the place where active and closed notes go so you can easily see them all. By default all closed notes are not deleted but moved to the archive, where you can re-open them. Also they remain searchable.
Paid Features
While most functionality of Antnotes is available in free version, paid version has some unique ones:
attach note : glue note to the application so it will be displayed when application is activated and hidden otherwise. Handy to make quick notes about the documents you are editing.
quick text and background color selection from favorites
pickup note font from list of predefined and favorite fonts
No clouds and accounts unless you want it
Unlike other modern applications Antnotes app doesn't bind you to any Cloud or account - just download it, run and use. All notes will be stored safely on your Mac and backed up together with other files via Time Machine. Also there is option to import and export notes manually via the File menu.
System integration
Application is integrated into the system for your convenience: right-click on text in any application and choose "Services->New Note" to create a new note from selection. Drag text and files to app's menu bar or Dock icon to create a new note. Use global shortcut to quickly hide and show notes or create new ones.
Meets all user requirements

Antnotes is an excellent upgrade to Stickies and similar apps. It can be as simple or comprehensive as you want it to be. You can add a quick note or something more substantial, including URLs, images and even video which plays within the note. That's more than I need right now, but it's good to know it's available. The only thing I'd like to see is an iOS version.

Powerful but simple

This app has lots of customization options, but it isn't at all cluttered. You can attach apps to specific applications, so they only show when that program/app is running. Super convenient. This is the perfect digital post-it app.

Does the trick...

Much more usable and configurable than the included Apple app, particularly that it can start at boot, put itself on the menu-bar, and remove itself from the doc. I use it for those "gotta do it as soon as I get off the phone" situations where I can't forget to make it happen right away. Nice tool. Wish it had a bit of font customizations, but it's a small quibble.
Antnotes app is available in two editions: free version, called 'Simple Antnotes' and paid application with advanced features, called 'Antnotes'. The second one helps us to drive the development of both applications.
Requires Mac OS X 10.6+
Have questions regarding Antnotes usage? Or got some issues? Feel free to contact us!